Wayne Gatling: Waterfowl Hunting Outfitter in Maryland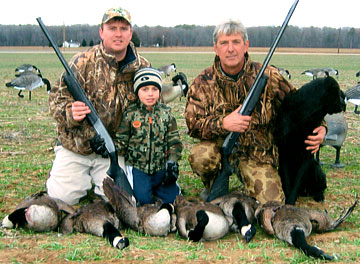 I was born in 1951. My parents lived in the small town of Rock Hall, Maryland. Rock Hall is a Waterman's Town on the Chesapeake Bay, smack dab in the middle of Maryland's Eastern shore and all of the Canadian Geese and ducks you could imagine. Coming of age in the 60s, for me, meant going Goose and Duck hunting with my Father and his friends on my Uncle's farm, every chance I could get. My father didn't let me shoot until I was 15 years old, but I was going with him in the blinds and pits for as long as I can remember. My Uncle had a farm that he rented out by the day to various hunters from Pennsylvania and my cousin and I used to set up the decoys and call for them. They would give us a couple of bucks and ask us to show up the next time they came down. In the mean time, we hunted almost everyday before and after school. I guess this was the beginning of my guiding. (It was 1966 and I was 15 years old.) I tried to go to College, but in my second year I dropped out because the commute to Campus in the fall was past all the cornfields full of Geese; it was tough. On rainy or snowy days, I turned the car around and hunted most of the day. In the late summer of 1971, one of my childhood hunting customers told me that a big Corporate Hunting Club down the road was looking for a Guide for the fall. I jumped in my car and hauled "ass" to the farm where I was hired on the spot. That started my "real" Guiding Career, guiding six days a week on a Bay front farm, next to a Federal Refuge. Every morning we shot ducks on a creek on the Bay, and then ran to a Goose Pit where we usually limited out by 10:00 a.m. I guided at that club for seven years, until the owner of the farm died. Then for the next seven years, I guided for a group of hunters that formed from some of the guests of the Corporate Club. During this time I guided for them four days a week, and they let me do "day hunts" on their farm the other two days.
In 1986 this group disbanded and I bought a farm in Delaware, where I started Wayne Gatling Guide Service. I kept this farm until the mid 90s, when Delaware went to a one bird (goose) limit. It was no longer feasible to keep the farm. I sold the farm to the State of Delaware as part of their Cedar Swamp Refuge and Public Landing System. Then I moved back to Maryland, where there was still a two bird (goose) limit. I rented three waterfront farms; and while hunting geese, I built up a duck hunting business. While in Delaware and after I moved back to Maryland, I offered Duck hunts on Bloodsworth Island. This is a large island a couple of miles out in The Chesapeake Bay in Dorchester county, Maryland. We did two groups a day down there for about 10 years, and shot the "hell" out of ducks. While hunting back in Rock hall, I could see the writing on the wall and sure enough in 1997 the U.S. Wildlife Service closed the Canadian Goose Season for five years. Fortunately, I had enough duck hunters to keep me in business. While the goose season was closed, most of the other Outfitters went out of business. During the closed goose hunting season, we built several impoundments. We ran electric to the blinds so that we could run "bubblers" to keep the water open, when all the other ponds and creeks around us were frozen. We sunk wells so water could be pumped on top of the corn and milo. This worked really well and our hunting took off really well. Besides these impoundments, I also have several tidal creeks where we shoot mostly Diving Ducks and some Marsh Ducks. I also have electric and bubbled holes at several of these blinds. It is amazing when you have the only open water in the area. Then finally in 2002, the State of Maryland opened our Goose Season with a short one bird limit. It wasn't much, but it allowed us to shoot a few geese while duck hunting. We had about the same season in 2003 and then in 2004, they gave us a much longer season, with one bird at first, then two birds toward the end of the season. Now we have a two bird limit and Wayne Gatling Guide Service will be here in Rock Hall Maryland to give you the best hunt possible. You can count on that! Besides myself, I have several of what my customers tell me are the best Guides around working for me, and if I didn't believe that, they wouldn't be working for me. If you are looking for a quality Goose and Duck hunts on Maryland's Eastern Shore, give me a call and I will try our best to give you just that.