To write a review, click on the GOOGLE box below.

To read customer reviews, click HERE
Chesapeake Bay Fishing Charters
Captain Wayne Gatling invites you to bring your family, friends and business associates to spend a fun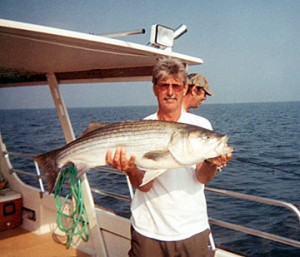 filled day fishing aboard the 46′ charter boat "Lara Lynn VI"! Captain Wayne Gatling has a tried and true method for fishing in Chesapeake Bay. He starts by fishing at the end of May primarily trolling and chumming for Rockfish, whichever method works best at the time. By the middle of June he also bottom fishes for White Perch and Catfish. Then in early August Bluefish start showing up in pretty good numbers and we catch those by trolling and chumming. Unless you ask to catch a specific species we try to catch our limit of Rockfish first and then finish our trip out by catching Perch, Catfish or Bluefish. "Whatever species you are looking for, if you would like to fish here in Rock Hall, Maryland, or in the Florida Keys, give me a call and let my 40 years of experience go to work for you. I will do all I can to give you the best Chesapeake Bay fishing experience possible." -Wayne Gatling
Maryland Waterfowl Hunting – Goose and Duck Hunting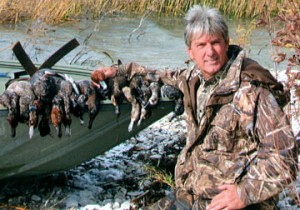 2015 marks 44 years for Wayne Gatling as a "professional hunting guide." Come Goose Hunting & Duck Hunting this Fall & Winter with Wayne Gatling or along with one of his highly experienced hunting guides on Maryland's Famed Eastern Shore. The Eastern Shore of Maryland is consistently recognized by sportsmen to be the best waterfowl hunting on the Atlantic Flyway. On our Maryland duck hunting trips we target Mallards, Wood Ducks, Teal, Black Ducks, and Pintails over Ponds & Flooded Corn Impoundments. We target Canvasbacks and Bluebills, on Tidal Creeks & Coves. Our Maryland Goose Hunts are from Pits & Blinds in Corn, Bean, and Wheat Fields. We also hunt Geese from Water Blinds on Ponds & Creeks. "One of the great things about being in business this long is that I have several hunters that have been hunting with me since the first year I was a guide in 1971. Several times a year I get the privilege to hunt with them, along with their sons and their grandchildren. That's right, 3 generations." There's nothing more rewarding to me than taking a family of three generations or a father with his son or daughter on their first goose or duck hunt. If you are looking for a good hunt on the Eastern Shore of Maryland, call me to book a hunt and let me show you why they have been hunting with me for forty years." -Wayne Gatling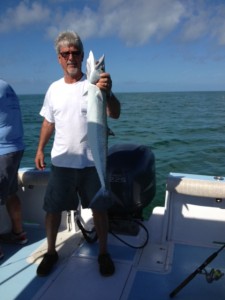 Marathon FL Fishing Charters
Charter fishing in Marathon FL in the Florida Keys is one of the most enjoyable and exciting fishing adventures one can experience. Whether you're a novice angler or a veteran outdoorsman, Captain Wayne Gatling ensures your Marathon fishing trip will be an experience of a lifetime. Charter fishing in the Florida Keys and the Middle Keys is an exciting rush from beginning to end. Captain Gatling, a knowledgeable and qualified Marathon fishing guide, knows how to make the experience appealing and gratifying to every angler. Captain Gatling runs fishing charters in Marathon from February 1st through Mid-May and this year marks his 25th year guiding in the Florida Keys. Even on windy days we fish the peaceful backwaters of Florida Bay to find unique fish, including Mangrove Snappers, Grouper, Spanish Mackerel, Sea Trout, and Sharks. Come fish the Ocean Reefs for Yellowtail Snappers, King Mackerel, Permit, Grouper, Mangrove Snapper, Porgies, Mutton Snapper, and Barracuda. For a true test of skill, join Wayne in search of Tarpon of up to 175 pounds. These boys will without a doubt push your limits. Contact Captain Wayne Gatling to schedule your Marathon fishing charter in the Florida Keys.