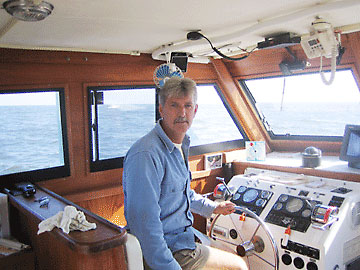 Meet the captain of your sport fishing charter on Chesapeake Bay  
I was born and raised in Rock Hall, Maryland, where I live today. I come from a long line of Rock Hall Waterman and Charterboat Captains. As a teenager I worked as a mate on several of my mother's uncle's charterboats.
In 1974 I got my Coast Guard Captain's License, bought my first boat, named it Lara Lynn and started running "fishing parties", as they called them back then. Shortly after I got into business the Rockfish numbers started dropping, and Bluefish started taking over the Bay. Most of the old customers coming here didn't want to catch Blues, business dropped of dramatically. Within a couple of years all of the "Old Timers" running fishing parties retired or dropped out to go crabbing or clamming. For about fifteen years I was the only Captain going out of Rock Hall. Once or twice a year I would see another Charterboat from another town fishing the area. Except on the week-ends I didn't see another boat fishing the Bay.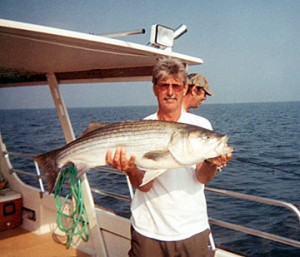 Through these years I was able to run about 100 to 125 trips a year. Taking people out to catch Blues, Catfish, White Perch and whatever Rockfish we could find. Then just when we started catching fair numbers of Rock again, the State of Maryland."prohibited" the "taking of Rockfish" in Maryland waters. This could have been a huge blow to my business, but I convinced the "Sportfisherman" to catch and release Rock and those that wanted "meat" in the cooler to concentrate on catching Blues, Catfish, and Perch. During this moratorium I was able to run about 150 trips a year and my customers seemed to have a lot of fun catching and releasing Rockfish and taking home enough Blues, Catfish, and Perch to make their trip worthwhile.
In 1990, after five years of not being able to keep Rockfish, the D.N.R. opened a short season for them and each year thereafter, gave us a little longer season until finally we were able to keep Rock Spring thru Summer, with a daily limit of two fish of 18 inches or longer. Over the last fifteen years that the Season has been in, I have run between 250 and 290 trips a year. Two trips a day, seven days a week, most of the summer and into the fall.
Over the last 47 years that I have been in the Fishing Business, there have been many changes in fishing and in the business as well. One of these changes being a large increase in Captains in our area. This gives you, the Angler, many choices of Captains to fish with. Because I have 15 years more experience than any other Captain in Rock Hall, and at least 25 years more than most, and the fact that I have run over 7,500 fishing trips on The Chesapeake Bay, I think your choice of who to fish with is clear.
If you would like to fish the Eastern Shore of Maryland, give me a call and let my 47 years of experience and over 7,500 charters go to work for you. I will do all I can to give you the best Chesapeake Bay fishing experience possible.
Here's to Tight Lines!!
Capt. Wayne Gatling