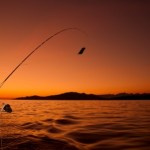 The Florida Keys are not an easy place to navigate. There are thousands a reefs and tens of thousands of places to bottom out or run aground. On the same token, the Florida Keys offer visitors some of the best fishing they could possibly ask for, if you know where to go.

Simply relying on your sonar doesn't replace the decade's long experience it takes to become a seasoned fishing captain. Knowing the exact spots where fish are so plentiful they practically jump into the boat and what time of day makes fishing much more enjoyable. And doing it safely is imperative to protecting your life.

If you need a gage as to how dangerous it could be to navigate the Florida Keys without an experienced captain, consider the area is a top SCUBA destination. The reason has everything to do with the number of ship and boat wrecks, which create spectacular reefs divers love. A chartered fishing crew as familiar with the coastal areas off the Florida Keys as they are with the back of their hand ensure you and your boat won't wind up part of the diving attraction.

If you're visiting the Florida Keys and are an avid fisherman, you will need a little guidance to enjoy some of the best fishing you will enjoy in your lifetime. But these waters aren't the most accommodating to unsuspecting visitors, unaware of what waits just beneath the surface. So enlisting the services of a professional fishing charter while visiting the Florida Keys will help you navigate to a vacation experience to remember.