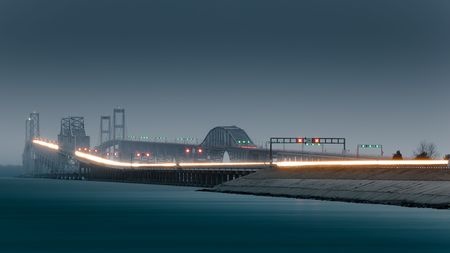 When the original Chesapeake Bay Bridge span was completed in 1952, it opened Maryland's Eastern Shore to exponential development. All of a sudden, the Eastern Shore, once a vast rural land tract, was considered part of the Baltimore-Washington Metropolitan Area as a bedroom community.
The bridge loosened up population congestion in the western part of Maryland, allowing for more sprawl into the eastern half. There was some relief to expensive, congested living conditions found in the near suburbs to Washington DC. Suburbanites who were priced out or simply wanted a little more space to call their own now had options. But this came at a cost.
Aside from the environmental impact suburban sprawl has on any ecosystem, with increased automobile use over longer distance- and subsequent increased CO2 emissions- and deforestation for homebuilding, Eastern Shore suburban development is especially detrimental. Because thick eastern forests were bulldozed to clear land for homes and roads, bird habitats were strained. The deforestation combined with the increased CO2 emissions also compromised air quality.
Before the Eastern Shore started witnessing its suburban development boom, thanks to the Bay Bridge, it was forested and very rural. But since having taken on the role as a metro area bedroom community, this is becoming increasingly endangered. This is why we have in place such initiatives as The Waterfowl Festival.
The Waterfowl Festival, initiated by ambitious enthusiasts, was started to share with visitors the Eastern Shore heritage and ultimately raise funds to protect the wildlife and their habitat. Having kicked off in 1971 to coincide with the opening of goose hunting season, the Waterfowl Festival has grown from three small exhibits in downtown Easton to more than a dozen venues throughout the town, with an annual economic impact to the area of nearly $6 million.
With exhibits having grown to fifteen with four events since those fledging days of the Festival, awareness for protecting Eastern Shore waterfowl is strong as ever. The Festival has donated over $5million to Ducks Unlimited in conservation grants to more than fifty organizations. The negative impacts from suburban sprawl will never be completely eliminated on the Eastern Shore. But they can be minimized with awareness and fundraising efforts to best let us coexist with the wildlife on the shore present long before human impact.