April 8, 2014
The last couple of weeks have been very good for both Tarpon fishing at the famous 7 Mile Bridge and Snapper fishing in the back bay.  We have had several people catch their very first Tarpon with us…Jaycee, Julia, Ted, Brian, Tom…sure to remember for years to come with plans to come back next season and do it again!  Our customers of many years, Mike and Judy, have been catching Tarpon a couple times a week for the last 6 weeks.  All of this action, before the main migration has even arrived.  Typically the best time to catch Tarpon is mid-April to mid-May.  We will be here in the Florida Keys until the third week in May so there is still time to get your group together and book your memorable Tarpon trip!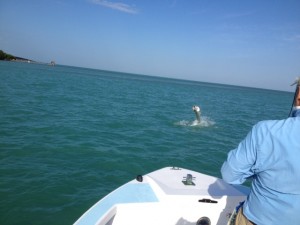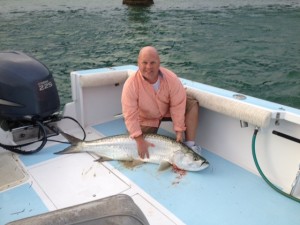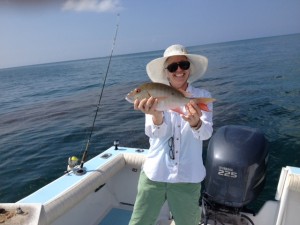 July 22, 2013
The Chesapeake Bay Rockfish season has been really good!  We have consistently caught our limit every trip…even trips with 14, 18 and 21 anglers!  What a great way to spend the day with family, friends and co-workers.  To quote an angler from the July 6th trip, Charles Weaver, "What an incredible day and lasting memories, Michael, Mitch and Josh with their spoils. Thank you! We always have the best time."  Keep passing the torch, Charles!  We enjoy being part of your family's tradition.  Check out some pictures of our latest trips.  Call Captain Wayne to get your trip booked.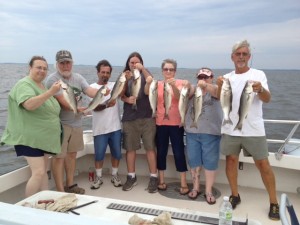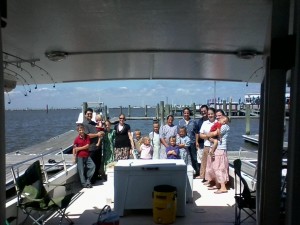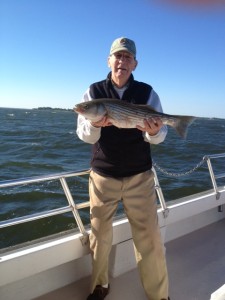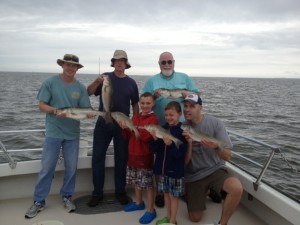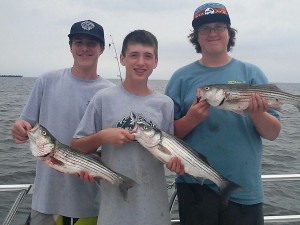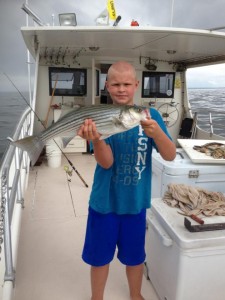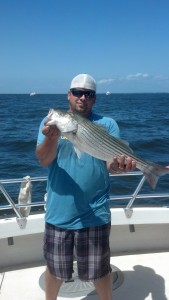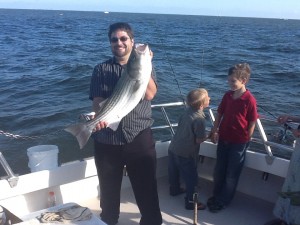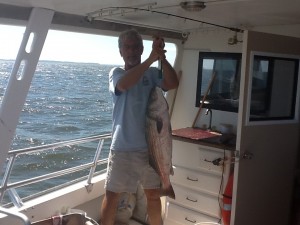 May 16, 2013
Great to see Steve and Donna Titus and Joey…short visit, but great Tarpon fishing.  On Mother's Day, my wife, Susan, caught her biggest Tarpon ever at 150 lbs. and 7 ft. long.  What a stubborn Tarpon too, he towed us a mile and half out into the ocean and fought for an hour and 15 minutes.  Then a hammerhead shark came on the scene and we broke him off to save his life. The next day our daughter, Cassi, and her boyfriend Will caught their very first Tarpon…3 total that morning, all between 100 – 120 lbs.  Very exciting and eventful morning!
The McDonald's Tarpon Tournament is currently in full swing and will end Friday, May 17th.  Night number one, Capt. Wayne was number one at the 7 Mile Bridge with 3 tarpon to the boat.  We will head back to Maryland on Saturday, May 18th and ready to fish the Chesapeake Bay by June 1st.  We have had a wonderful fishing season in the Keys…thanks to all our friends, old and new, we appreciciate your business and look forward to seeing you in Maryland or in the Keys again next year.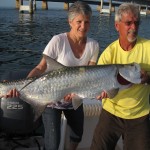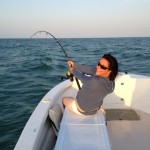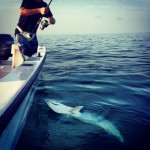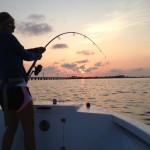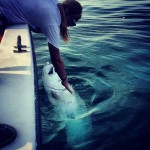 May 1, 2013
Tarpon, tarpon, tarpon everywhere!  My latest group, Bill Skinner and his guys, Brian, John and Mike from Delaware had three great mornings of tarpon fishing catching as many as 3 fish in one morning.  They also had a great snapper trip and took their catch to Key Colony for a wonderful meal.  Mark and Colleen McNeil from Rock Hall, MD each caught their first tarpon.  See their videos on YouTube directly from this website.  Happy Anniversary Mark and Colleen, let's make it an annual event!  Our kids, Paul and Amanda Perrone, joined us for their annual Anniversary trip and caught several tarpon each.  We celebrated our Anniversary's together, enjoying our snapper catch at Key Colony.  Also making their annual tarpon trip was Scott Barmby, his son Rex and Steve Jaffe from Mt. Airy, MD. They caught several tarpon each…see you guys next year!  Rob and Tonya Hutcheson  made a detour from their Key West vacation and spent some time with us.  Not so lucky with their tarpon trip, although we had some close calls but no hook ups.  Our snapper trip was exciting, catching many species of fish in the back country, including a shark.  Our time in the Keys is winding down.  After we fish the McDonalds Tarpon Tournament, May 14,15 &17th, we will be making our way back home to Maryland.  We will be ready to fish the Chesapeake Bay by June 1st…let's get booked up and hook up some stripers.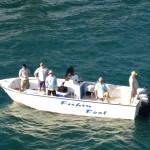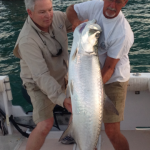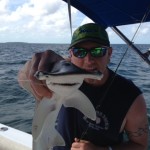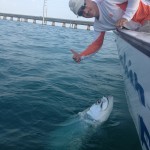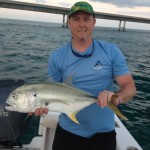 April 15, 2013
The Tarpon have arrived!  Mike and Judy Adler from Burlington, Vermont caught Tarpon 4 days last week.  Bob and Jason Mart had a fantastic back country trip on Saturday, 4/13, catching over 50 lady fish (poor man's Tarpon) and a nice limit of 13-16 inch Mangrove Snappers. Just a few pictures of last week's trip with Steve and Judy Cooper from Worton, Maryland, Jack Crevelle's caught at the 7 Mile Bridge while Tarpon fishing.  Had a double header with Tarpon, but both spit the hook!  Better luck next year Steve Cooper!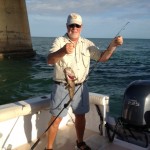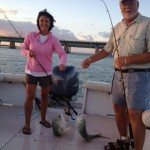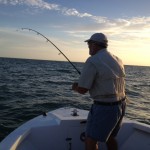 Happy Easter everyone!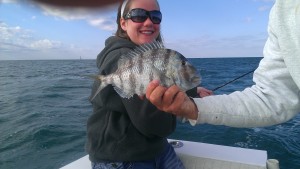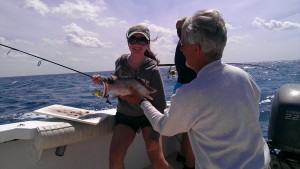 We have had a very busy couple of weeks…lots of families in town on Spring break.  The Coopers are here (Steve and Judy) from Worton, MD with a short visit from their daughter Stephanie.  Steve and Stephanie caught a large variety of fish out on the reef.  Kirk Rebane, John Martin and their families (6 children in all) did four trips out on the reef and shark fishing…the kids had all they could handle catching grunts, porgies, hog fish, wrasse's, grouper, yellow-tail, lane and mutton snappers. John, Kirk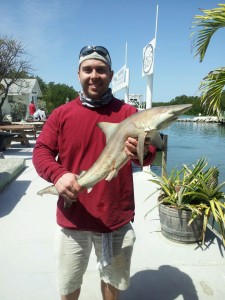 and son Tim caught several nice sharks on their shark trip!  The experience was completed with 13 of us taking our fish to Castaways Restaurant  for a fabulous meal, shark steaks included!  A last minute trip was scheduled by 5 college exchange students from Tennessee, the boys were from Chile, Denmark, Sweden, Finland and the UK…never fished before and were very happy with Captain Wayne's patient teaching.  They went to Sombrero Beach and grilled their own fish…Tom Sawyer style!
It's been a very busy week with customers from up North, including Dr. Bill Rienhoff, Jerry Kennedy and his group and Terry Cooper and his group.  We caught many fish…28 different species to be exact, plenty of Snapper, Spanish Mackerel, Sharks, Porgies and Blue Runners.  To complete our fishing experience, we take our catch of the day to Key Colony Inn where they do a fantastic job of preparing our fish many different ways, Fish Parmigiana is one of our favorites.