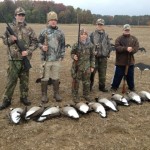 Between October and January, duck hunters flock to Maryland's Chesapeake Shore for prime conditions. Fowl not only love the Bay for sustenance, and are subsequently driven to the waters out of necessity, but the body of water sits directly under the Atlantic Flyway migratory route.
On autumn, southbound migrations, fowl from all feathers use the Chesapeake Bay as a stopover and feeding ground by the thousands. This makes for really good hunting in Maryland, particularly on the Eastern Shore of the state. Whether by boat for a sea-duck hunt, from the shore for a diver-duck hunt, or in the marsh for a goose hunt, the Eastern Shore has it all.
Every fowl species from Long Tailed Duck to Old Squaw and Surf Scoter to Redheads, Blackheads and Canvasbacks, not to mention the mallard and geese, are in high concentrations on the Eastern Shore. This is what makes Maryland's Eastern Shore among the best rated hunting grounds in the entire world for waterfowl.
But just like everything in this world, if not channeled correctly, the best resources available are useless. This is why when in Maryland for fowl hunting, getting a hold of a guide is your best chance of enjoying the seemingly unlimited bounty of the region's fowl hunting. Knowing where to go and learning certain regional tactics vary from region to region. And you can't learn the lay of the land on the Maryland Eastern Shore overnight.